Pillow filling
WHAT IS MICROPEARL AND WHY IT IS THE BEST FILLING ON THE MARKET?
Ceba Sp. z o.o. was the first company in Poland that used styrofoam balls to fill its Cebuszka pillows. We always knew and believed that it's the best and only choice for Moms-to-be. We have been manufacturing pillows for Moms and Babies for many years and now we can only say that we were right about the filling!

Our Multifunctional PHYSIO pillows are filled with polystyrene balls that are composed of 98% air. That's why our pillows are so lightweight and flexible. Micropearl is the best filling as it effectively absorbs shocks and does not have spring qualities. It's very important for our spines and our osteoarticular systems.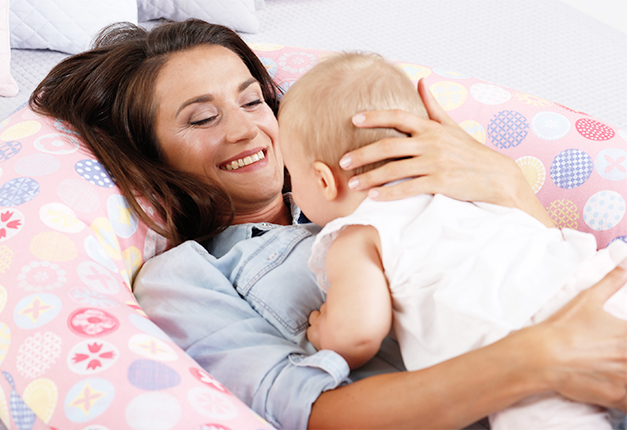 Micropearl is biologically and chemically inert, it is odourless and hygienic. It is a product that has been approved as safe for contact with food. Thanks to an additional chemical processing during the manufacturing process, the micropearl is not a nutrient for microorganisms and it's resilient to mould, fungi and bacteria. This kind of filling does not absorb moisture which does not make the pillow an attractive environment for microorganisms. Micropearl is odourless and it does not cause any allergic reactions. It's great news for allergy sufferers! With our multifunctional PHYSIO pillow there's no need to worry about cough attacks or chronic cold. Micropearl balls are environment-friendly and meet the highest environmental norms. They can also be fully recycled.
Our micropearl balls have been tested and are safe for use – the also have an Oeko Tex Standard 100 certificate (you can find the certificate details under the Certificates tab).

Styrofoam micropearl balls may decrease in volume. It all depends on the frequency of use and the ways of using our pillow. It's a natural change that all kinds of textiles and pillow fillings undergo. The only difference is that now you can stuff your Multifunctional PHYSIO pillow on your own. All our pillows (mini, multi, duo and flexi) are stuffed with styrofoam micropearl balls. This micropearl stuffing is available in the form of granulate.
How to refill our Multifunctional PHYSIO pillow?
Take the cover off your Multifunctional PHYSIO pillow and put all the stuffing to one of its sides to make some room for the new granulate. Carefully slide the zipper out from its protective tunnel (the zipper should be under the material which provides protection against unwanted unzipping and falling out of the styrofoam micropearl balls from the inside of the pillow). Open the zipper carefully and put the desired amount of micropearl into the pillow. Be careful while putting them inside the pillow as these lightweight balls will stick to all surfaces around. In order to eliminate this problem you can use a funnel or a device of a similar construction used for pouring micropearl through a small opening. Please remember to close all the windows before refilling your pillow to avoid an unwanted mess in the room. Please make sure that there are no children in the room you are using to refill your pillow as this may result in an accidental swallowing of the styrofoam balls.
The pillow comes in a cover that is easy to wash. It can be easily taken off and washed at 40ºC. All the materials used in the production of our pillows have certificates and are safe for everyone, even for the youngest allergy sufferers.